How does iEPA benefit Ghana as a Country?
The tariff cutting process for Ghanaian exporter to the EU started in 2016, opening up for Ghanaian exporters to the EU. By 2029 Ghana will have progressively reduced its tariffs to zero for 80% of its tariff lines from the EU. In the future, the EU and Ghana might decide to expand the iEPA to include, for example, provisions on investment and trade in services.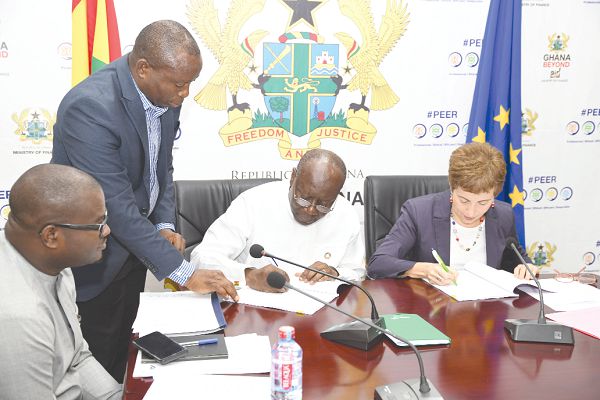 The impact of the EU-Ghana iEPA on Ghana​
What can Ghanaian businesses expect from the iEPA?
The iEPA provides considerable benefits to Ghana by giving it immediate duty-free, quota-free access into the EU goods market. This should benefit Ghanaian producers by improving incomes, and provide market access to exporters.
The iEPA seeks to reinforce and secure a more competitive trading relationship between the two counterparts. Without the iEPA, about two-thirds of Ghana's non-traditional exports would have continued to face high tariffs withthe potential to suffocate Ghana's fast-growing non-traditional higher value-added exports (NTEs).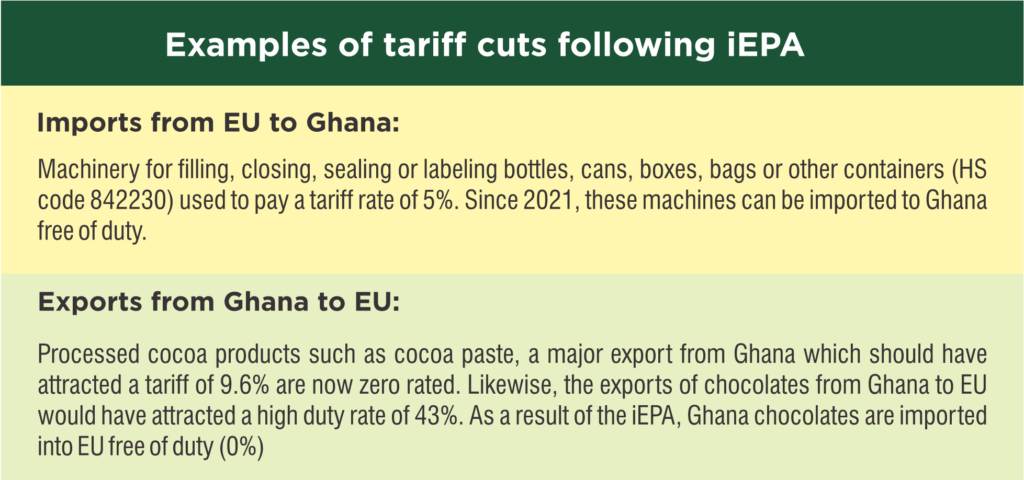 The opportunities created by the iEPA for EU and Ghanaian exporters and businesses include
Market Access: Free access to the EU market for all products made in Ghana. Since December 2016, the majority of all imports from Ghana to the EU have enjoyed duty-free quota-free access to the EU market. In addition, European consumers have easier access to products from small-scale, family-run businesses in Ghana. Since the signing of the iEPA at the end of 2016, Ghana exports to the EU almost doubled between 2016 and 2019, increasing from 1.19 billion Euros in 2016 to 2.27 billion Euros in 2019.
2. Supply chain opportunities: flexible rules of origin and cumulation (with ACP countries that have signed an EPA) allow import of better quality and more innovative inputs and give firms more choice when organising their supply chain while still benefitting from duty free access to the EU market. 
4. Greater integration of value chains: enhanced integration of value chains within the subregion will offer opportunities to increase cross border trade between Ghana and neighbouring countries. This is applicable in light of the African Continental Free Trade Agreement (AfCFTA)
4. Platform for dialogue and cooperation: the iEPA provides a platform to discuss reform and find solutions to trade and investment.
5. Cheaper inputs to Ghanaian production: the elimination of tariffs on intermediary goods and machinery from the EU will result in cheaper inputs for Ghanaian products. In addition, the agreement allows locally manufactured goods in Ghana to become more competitive on the export markets.